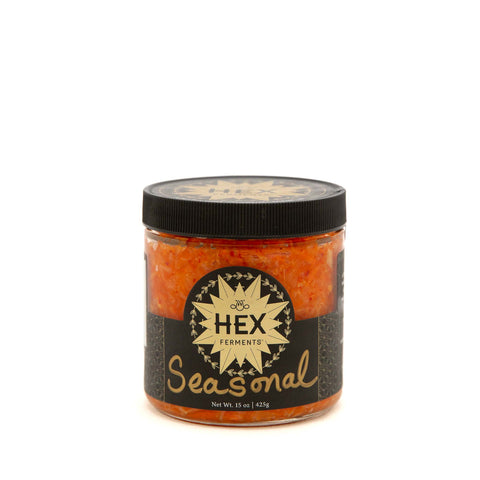 Seasonal Veggie
Our seasonal offerings rotate between unique Sauerkrauts, Kimchis, Pickles, Collaborations with Farms, Experiments, Inspirations, and more!  
Currently: 
Pizza Kraut 
Napa Cabbage*, Green Cabbage*, Oregano*, Dandelion*, Spring Garlic*, Nettle*, White Scallions*, Chickpea Miso*, Unrefined Sea Salt

Flavor Profile: The first of springs greens from Franklin Sustainable Farms. This garlicky, earthy, umami packed kraut-chi* is perfect for topping off your favorite comfort food, we, of course, recommend pizza ;)

 *Kraut-chi is a mash-up of Sauerkraut and Kimchi, fermented for less time than kraut but longer than our Miso Kimchi.

Garden Kraut
Green Cabbage*, Cucumbers*, Scallions*, Garlic Scapes*, Wild Ramps*, Fresh Dill*, Unrefined Sea Salt
Flavor Profile: Late summer garden veggies in kraut form with bonus pickle slices! Similar to Pizza Kraut, this blend is perfect for late summer BBQs, blended with sour cream for the best sour cream and onion dip EVER. Once you start you cannot stop!
*Organic Ingredients

Pickup currently unavailable