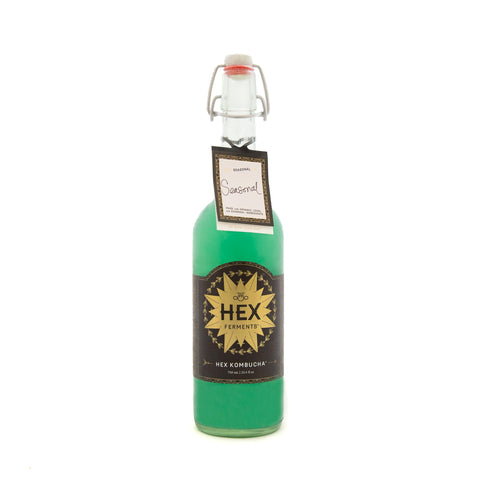 Kombucha - Seasonal
Our seasonal kombucha offerings include unique ingredients, flavors, collaborations, experiments, inspirations, and more. Please let us know what you like!  (The image displayed here is our Spirulina Kombucha, currently unavailable).


Currently:
Summer Fields
Ingredients: Filtered Water, Fair Trade Cane Sugar*, Black Tea*,Tart Cherry Juice, Strawberries*, Rhubarb*. Fermented with Kombucha Culture
Flavor Notes: Summer fruit faves in a bottle! Rich organic Assam black tea with fresh pressed local-organic strawberry, rhubarb and local tart cherry juice. Pop open a bottle for your next BBQ, picnic or as a host gift. Mixes well with Forthave Spirits Aperitivo, Baltimore Spirits Baltamaro Chamomile Bitters (find all three at HEX Superette!) 

HEX Kombucha is a living tea elixir teeming with probiotics. The taste is sweet and sour with naturally occurring carbonation. Drinking kombucha has been known to facilitate digestion, help with immune system functioning and aid detoxification.* We think it's pure magic.

*This statement has not been evaluated by the FDA. This product is not intended to diagnose, treat, cure, or prevent any disease.
Currently available at HEX Superette, select stores, farmers markets and for home delivery. 
Pickup currently unavailable